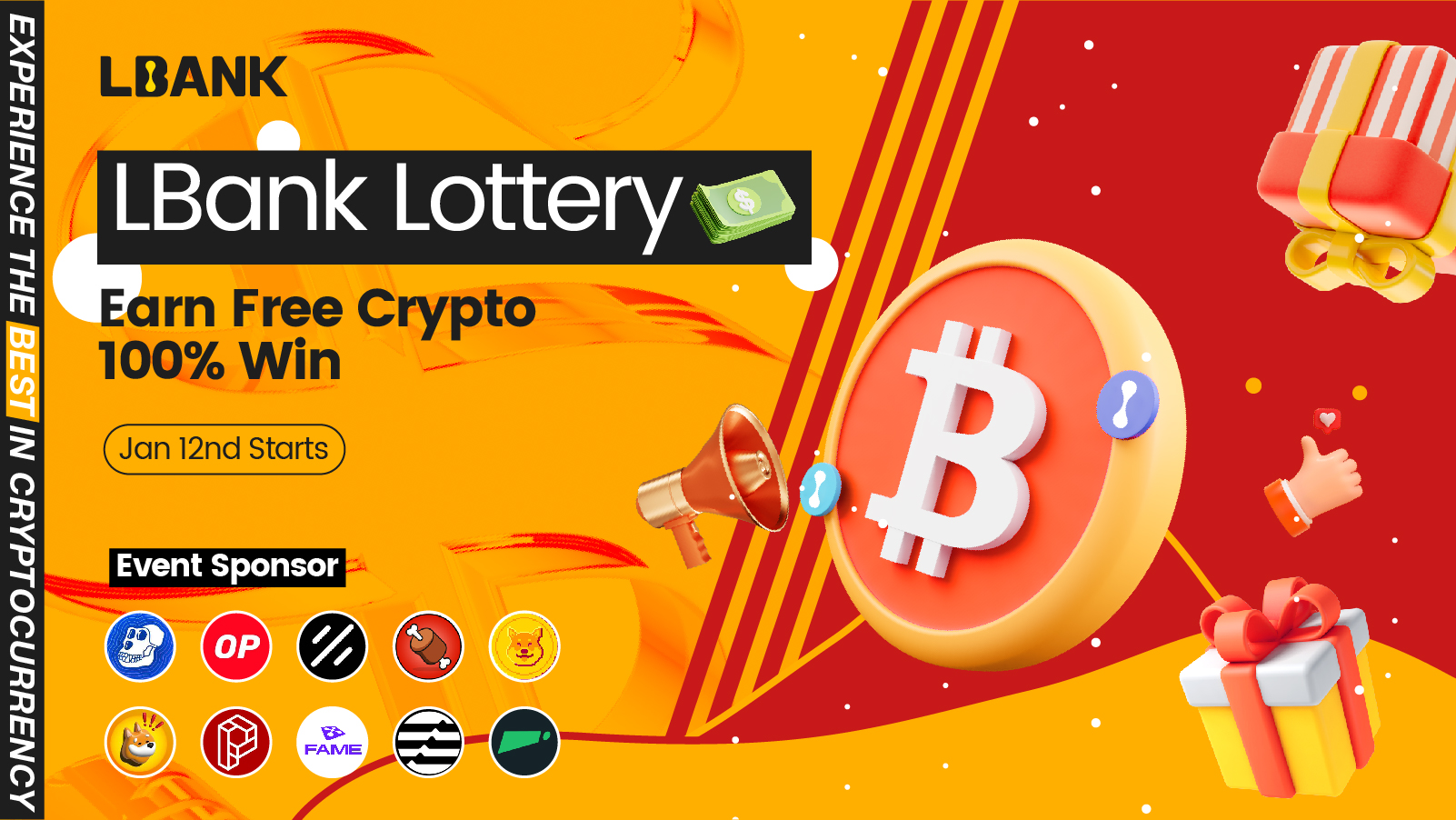 Dear LBank user,
Just enter the latest lucky draw hosted by LBank Exchange and be sure to win! It's not a dream! With a 100% chance of winning, you may even end up with a jackpot worth hundred of USDT and other exciting prizes for yourself!
To participate in this lottery event, you need to complete some simple tasks. These tasks are super easy to complete and you can receive lottery codes once they're done.
Event period: 12/1/2023 12:00 - 31/1/2023 12:00 (UTC)
Three methods to get the lottery code:
1. Deposit Crypto
Deposit the specified amount of designated cryptocurrency, and the TXID (transaction ID) will be the lottery code. The specified deposit amount of designated cryptocurrencies is as follows:
OP≥41;
GAL≥40;
APT≥13;
BONK≥35000000;
APE≥13;
TAMA≥4000;
PRMX≥16000;
BLID≥2600;
BONE≥45;
FAMEG≥320
2. Join LBank official Group
Complete the KYC and Join LBank official Telegram community and check the PINNED message to get the lottery code (once only).
3. Share the event
Complete the KYC and Share the event page to get the lottery code (once only)


Prizes are as follows, come join in the event and win.
Prize Type 1: 1- 20 USDT or equivalent tokens
Prize Type 2: Cashback Card worth 1-20 USDT
Prize Type 3: 200-500 USDT Earning bonus
Event Rules:

1. Free crypto rewards will be sent to the [Wallet-Spot] account on the next day. Any cheating behavior will not be rewarded. For accounts that win repeated
rewards, they will only receive once.
2. Cashback card worth 1-20 USDT for spot trading and 200-500USDT Earning bonus will be sent to the [Profile-My Coupon] on the next day. Please make sure to activate your rewards within 30 days after received, or they will be expired. Check out the rules clearly before activating the cards.
3. Please do not sign up for numerous invalid accounts as this will be considered cheating. Once found out, LBank will not distribute any token rewards to the related accounts.
4. LBank reserves the right in its final interpretation of this activity and in its sole discretion to adjust or change the tasks and rewards in line with the broad market.
Click here to download for iOS or Android
LBank Community
Find us on:
Telegram: https://t.me/LBank_en
Twitter:https://twitter.com/LBank_Exchange
Facebook: https://www.facebook.com/LBank.info
Medium: https://medium.com/LBank
LinkedIn: https://www.linkedin.com/company/lbank
If you have problems, please contact LBank official email: service@lbank.info, and we will provide sincere, friendly and immediate service. We also welcome you to join LBank official English community to discuss the latest issue (Telegram): https://t.me/LBank_en.