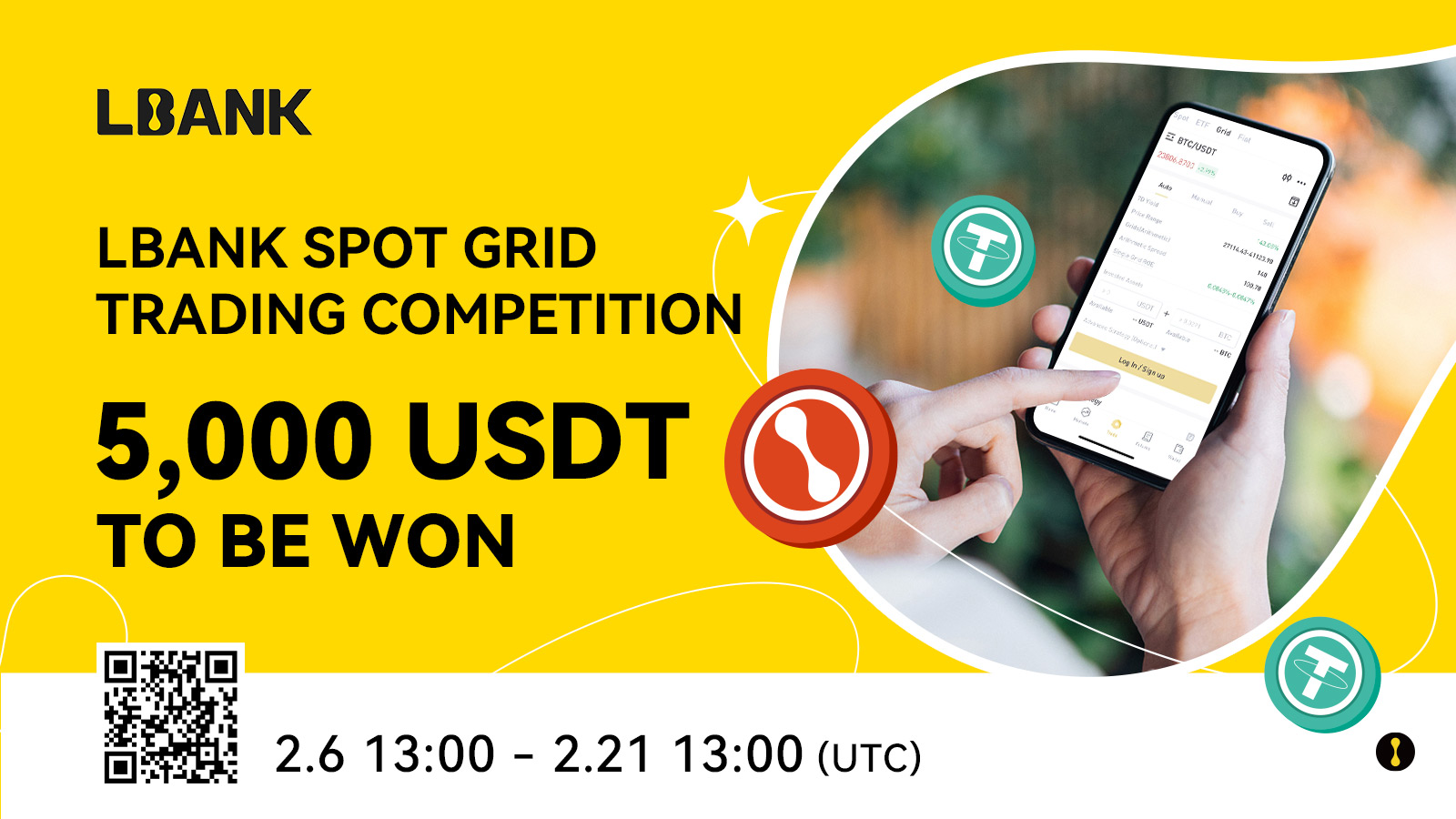 Dear LBank users:
LBank will launch a 15-day grid trading competition to thank all users for their all-the-way support. Anyone who creates the grid strategy in the grid trading competition has the opportunity to get rewards as per the actual earns.
I. Activity Time

2023.2.6 13:00 - 2023.2.21 13:00 (UTC)

Activity 1: Trading Reward!
During the event, users who create the Strategy Bot and meet the following trading volume requirements can unlock the Rewards! The prize pool is as follows:
| | | |
| --- | --- | --- |
| Ranking | Min trading vol (USDT) | Rewards (USDT) |
| 1 | 170,000 | 300 |
| 2 | 130,000 | 100 |
| 3 | 100,000 | 60 |
| 4-10 | 70,000 | 20 / each one |
Activity 2:Profit Reward

Rewards will be distributed according to the overall revenue during the activity.
Total Revenue Award (based on total grid revenue):
1st: 2,000 USDT

2nd: 1,000 USDT

3rd: 400 USDT

4th-6th: 200 USDT

7th-10th: 100 USDT
III. Activity Rules
(1) There are 20 grid trading pairs counted in this grid trading competition which can be automatically configured or custom configured, including LDO/USDT, TWT/USDT, KLAY/USDT, DASH/USDT, GMT1/USDT, ZEC/USDT, SNX/USDT, 1INCH/USDT, STORJ/USDT, CRV/USDT, FIDA/USDT, SCRT/USDT, EGLD/USDT, XTZ/USDT, DAR/USDT, ZIL/USDT, MELOS/USDT, ZBC/USDT, CELO/USDT, SPELL/USDT. All of them have already listed in the LBank Trading Bot.
2) Participating cannot receive two rewards at the same time, i.e. users who receive reward 1 cannot receive reward 2.
*Note
1)Earns of the competition are the accumulated earns of spot grid trading during the competition(including grid earns, floating earns, etc.)
(2) Total principal amount equals to total funds involved in grid trading (the amount invested in the spot grid)
(3) For the sake of fairness in the competition, irregular trading behavior such as earns diversion through other accounts will be excluded and the eligibility for the prize will be deferred to the next participant.
(4) A user is only allowed to use one account to participate in the competition. Participants who use multiple accounts to participate or manipulate trade will be disqualified.
(5) Risk warning: Please note that virtual token trading is affected by various factors such as market and policy, and the market is very volatile and unpredictable, so please pay attention to the market risk and trade with caution.
(6)All the rewards will be sent within 10 business days (not including national holidays, and weekends) after the competition concludes.
Click here to download for iOS or Android
LBank Community
Find us on:
Telegram: https://t.me/LBank_en
Twitter:https://twitter.com/LBank_Exchange
Facebook: https://www.facebook.com/LBank.info
Medium: https://medium.com/LBank
LinkedIn: https://www.linkedin.com/company/lbank
If you have problems, please contact LBank official email: service@lbank.info, and we will provide sincere, friendly and immediate service. We also welcome you to join LBank official English community to discuss the latest issue (Telegram): https://t.me/LBank_en.