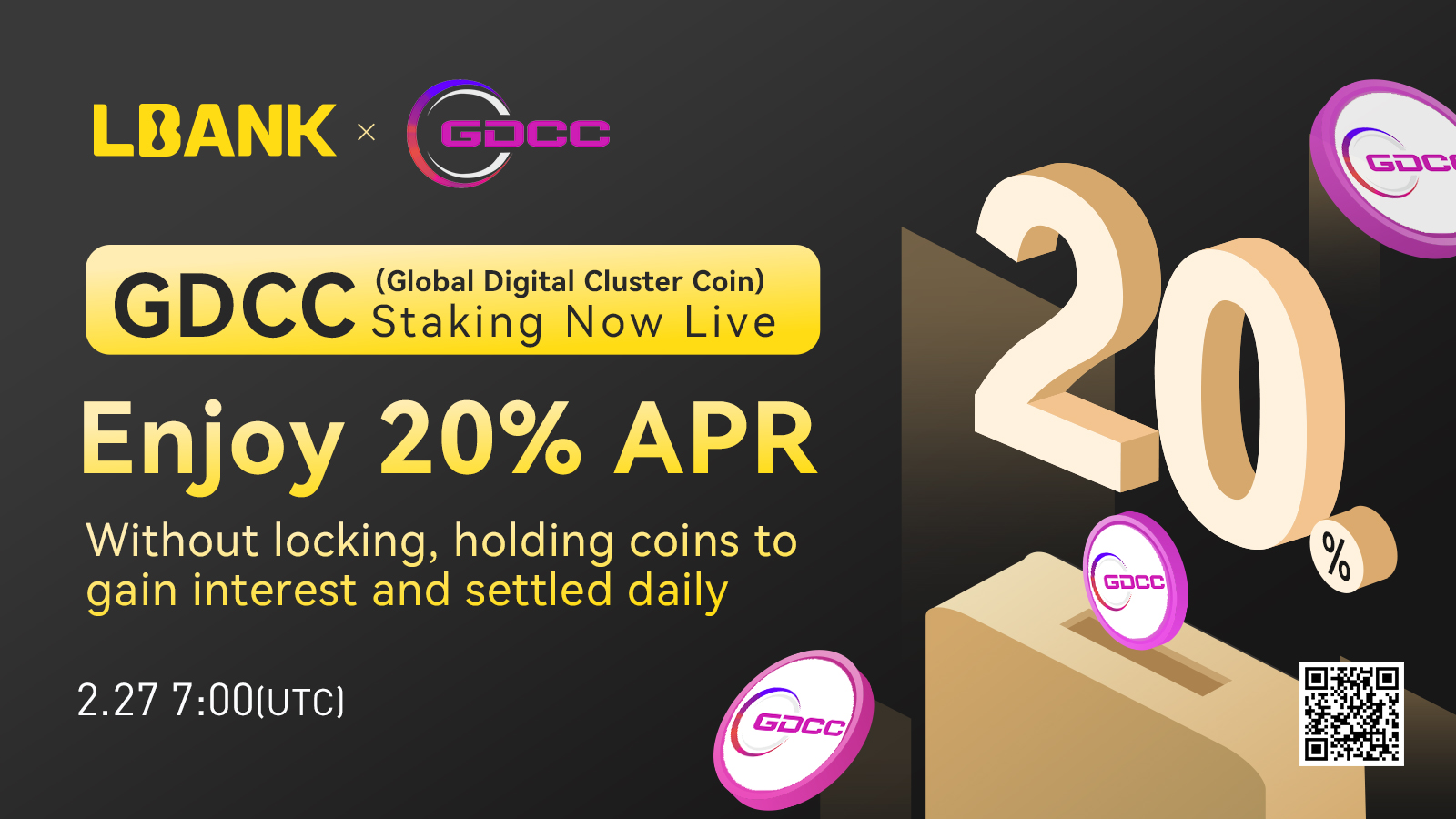 Dear LBank users:
In order to reward users, LBank will open GDCC(Global Digital Cluster Coin) Demand Deposit with an annual return of 20%. Without locking, holding coins to gain interest and settled daily. The details are as follows:
Participation Time: 07:00 on February 27th, 2023 (UTC)
Support Asset: GDCC(Global Digital Cluster Coin)
Annualized Return: 20% (Floating adjustment)
Maximum Interest-bearing Amount: with no limit
Minimum Interest-bearing Amount: account assets are not less than 5 GDCC
Participation Method: users need to register the assets in the "Demand Deposit " page.
Revenue settlement: T+1 calculates interest, T+2 pays interest.
Amount update: The amount of gap from the previous trading or withdrawal will be released at 2:00 pm every day.
* Assets registered in "Demand Deposit" do not affect trading or withdrawal. After registration, the assets that have been traded or withdrawn will not enter the interest calculation of the day. The amount gap will be released at 2:00 pm the next day.
* The freezing assets due to orders and participation in activities does not affect the interest calculation of demand deposit assets.
* LBank reserves the right of final interpretation of this activity.
LBank Community
Telegram | Twitter | Facebook | Medium | LinkedIn
Click here to download for iOS or Android
If you have problems, please contact LBank official email: service@lbank.info, and we will provide sincere, friendly and immediate service. We also welcome you to join LBank official English community to discuss the latest issue (Telegram): https://t.me/LBank_en.
Risk Warning: Investing in digital assets is extremely risky. Digital asset prices are subject to high market risk and price volatility. The value of your investment may go down or up, and you may not get back the amount invested. You are solely responsible for your investment decisions and LBank is not liable for any losses you may incur. Past performance is not a reliable predictor of future performance. This material shall not be construed as financial advice in any case. LBank reserves the right in its sole discretion to amend or change or cancel this announcement at any time and for any reason without prior notice.