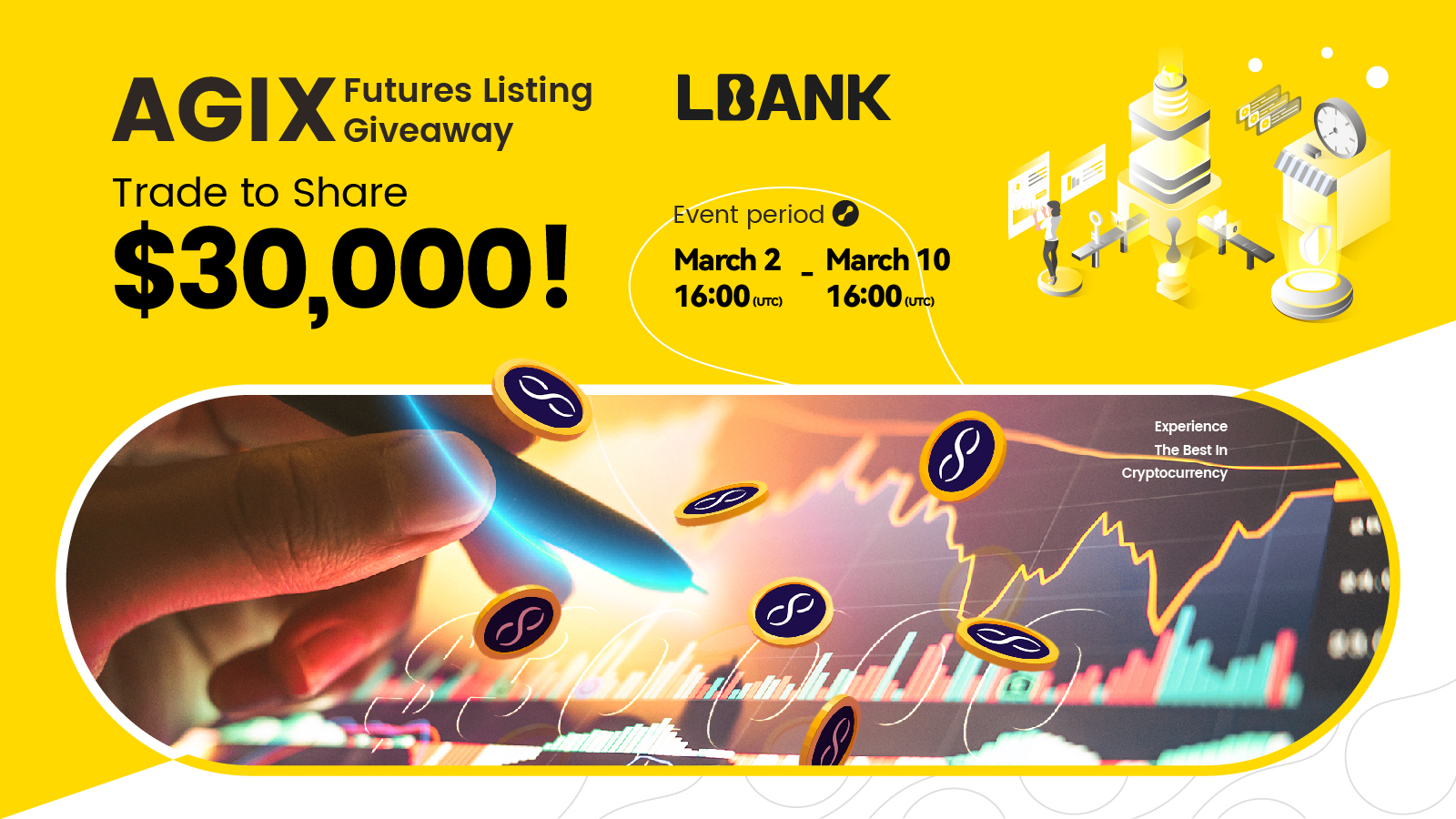 Dear LBank Users,
We are excited to announce a "New Listing Event" to celebrate the listing of AGIX/USDT futures and now invite you all to join for amazing rewards!
Event period: March 2, 2023, 16:00 (UTC) - March 10, 2023, 16:00 (UTC)
Participation: No registration is required, users who trade through the AGIX/USDT Futures pair will automatically participate in this activity.
Event 1: Welcome Bonus for New Futures Users
Users who open a futures account for the first time during the campaign period with a net deposit of more than $5 and complete one AGIX/USDT futures pair transaction will receive a $5 futures bonus.
Event 2: Trade AGIX to share $20,000
During the event, users who trade AGIX/USDT futures will share the prize pool according to their trading volume of AGIX/USDT futures. The details are as follows:
Trading Volume

(USDT)

Prize pool

(USDT)
Event 3: Daily Check-In with No Cap on Rewards
During the event, users who trade the AGIX/USDT futures will be eligible for rewards based on their continuous trading days and daily trading volume of AGIX/USDT futures.
Continuous Trading Days

Daily trading volume

Reward(USDT)
Don't miss this opportunity to win rewards by experiencing the AGIX/USDT futures pair. Join now and trade with LBank!
Terms and conditions:
The rewards will be issued in the form of Futures Bonus.

Users' funds in the futures account must be greater than 10 USDT before issuing the reward.

LBank's Futures Bonus can be used as a margin for derivatives trading (excluding spot trading). The Futures Bonus cannot be withdrawn, but the income generated by trading using the Futures Bonus can be withdrawn. Please note that the Futures Bonus will be cleared when the asset is withdrawn.

The trading volume only includes futures trading and does not include Fiat deposit or Spot trading. Trading volume = opening positions + closed positions.

LBank reserves the right to cancel the participation of users who profit through malicious behavior, including opening multiple accounts to obtain additional rewards and other actions suspected of being illegal, fraudulent, or harmful. LBank reserves the final interpretation of this event. If there are any questions, please contact our customer service team.

LBank reserves the right to the final interpretation of this event. If you have any questions, please contact our customer service.
LBank Community
Telegram | Twitter | Facebook | Medium | LinkedIn
Click here to download for iOS or Android
If you have problems, please contact LBank official email: service@lbank.info, and we will provide sincere, friendly and immediate service. We also welcome you to join LBank official English community to discuss the latest issue (Telegram): https://t.me/LBank_en.
Risk Warning: Investing in digital assets is extremely risky. Digital asset prices are subject to high market risk and price volatility. The value of your investment may go down or up, and you may not get back the amount invested. You are solely responsible for your investment decisions and LBank is not liable for any losses you may incur. Past performance is not a reliable predictor of future performance. This material shall not be construed as financial advice in any case. LBank reserves the right in its sole discretion to amend or change or cancel this announcement at any time and for any reason without prior notice.