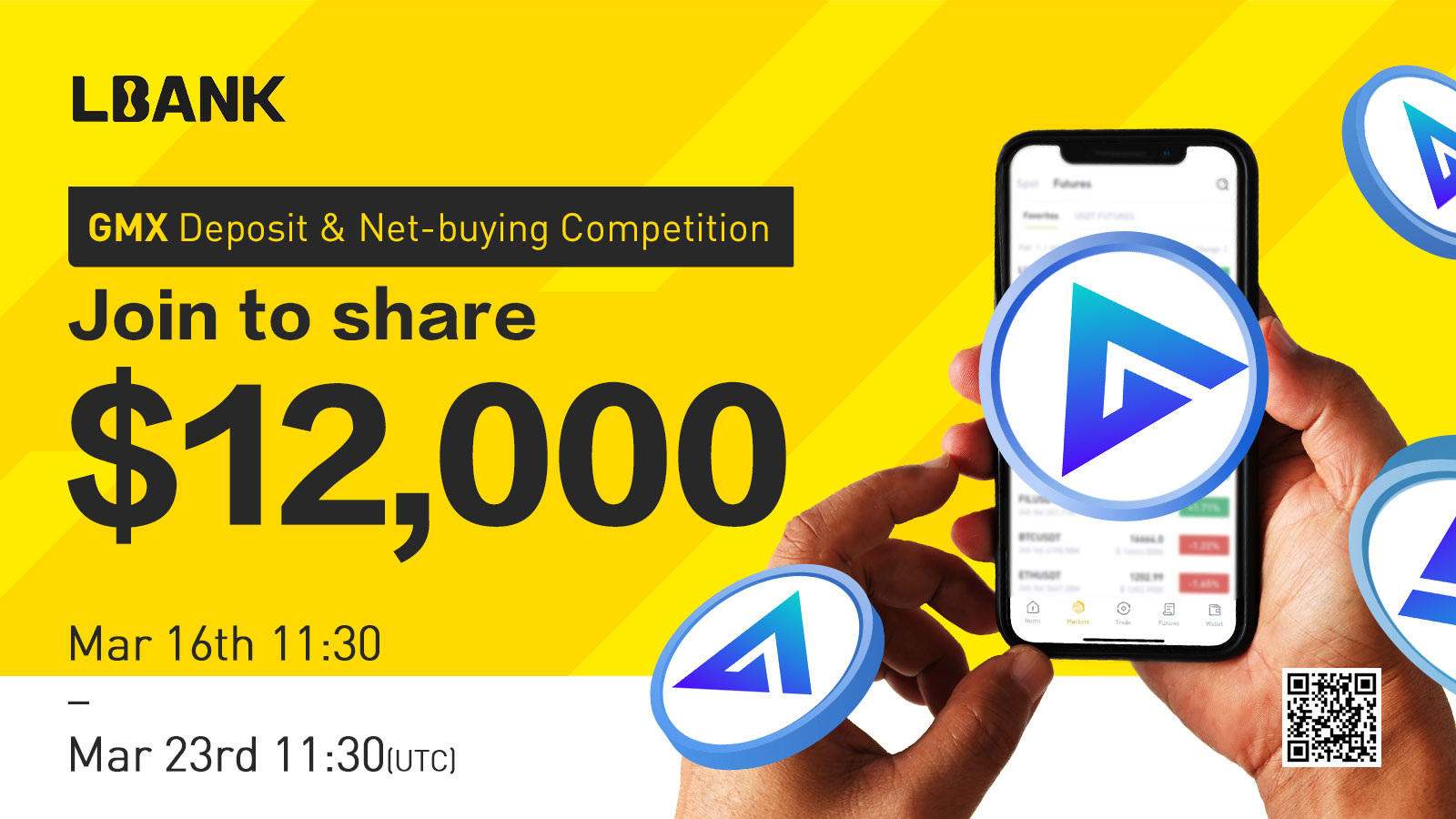 To celebrate the listing of GMX (GMX) and give back to our global communities, we will launch trading and holding competitions to give away $12,000 !
Event Period: Mar 16th 11:30 – Mar 23rd 11:30 (UTC)
1. Deposit Bonus - $5,000 Giveaway!
During the campaign period, users who make any net deposit volume in GMX will share $5,000 proportionally.
The reward for the qualified users = (Each user's total net deposit amount / all qualified users' total net deposit amount) $5,000.
Min deposit amount of no less than $30 in GMX.
Max reward for per user is $100.
2. Net-buying Competition - $5,000 Giveaway!
Users will be ranked in terms of the total net-buying volume (buy-sell) of GMX on their LBank account during the competition period. The top 20 users with the highest net buying volume will be rewarded with the following prizes:
| | | |
| --- | --- | --- |
| Rank | Prize | Min net-buying amount |
| | | |
| | | |
| | | |
| | Share $2,000 proportionally | |
| | Share $1,000 proportionally | |
⚠️Note:
The Participation Prize for each user is capped at $50.

Each user can only receive a maximum of one reward.
3. $2,000 Future Bonus is ready
Register or trade to get your future bonus!
New users who register for an LBank account will receive $5 Future Bonus. First attend, first served. ($500 Budget = 100 Users)

Form:

https://forms.gle/SZoV7ssKNjJUPqmcA

During the campaign period, users who fund their spot accounts with $50 equivalent GMX or GMX with a trading volume of $500 or more will receive a $20 contract experience bonus. First come, first served (up to 75 users)
By trading GMX, users will automatically participate in the Deposit & Net-buying Competition activities.

All rewards will be distributed within seven business days after the end of the activity.

LBank reserves the right to freeze any suspected accounts and disregard any trades that we deem "wash trades" for this competition.

LBank reserves the right to cancel or modify the competition or its rules at its discretion.
LBank Community
Telegram | Twitter | Facebook | Medium | LinkedIn
Click here to download for iOS or Android
If you have problems, please contact LBank official email: service@lbank.info, and we will provide sincere, friendly and immediate service. We also welcome you to join LBank official English community to discuss the latest issue (Telegram): https://t.me/LBank_en.
Risk Warning: Investing in digital assets is extremely risky. Digital asset prices are subject to high market risk and price volatility. The value of your investment may go down or up, and you may not get back the amount invested. You are solely responsible for your investment decisions and LBank is not liable for any losses you may incur. Past performance is not a reliable predictor of future performance. This material shall not be construed as financial advice in any case. LBank reserves the right in its sole discretion to amend or change or cancel this announcement at any time and for any reason without prior notice.