Dear LBank Users,
Easter Day is around the corner! To spread the joy of spring resurrection, LBank is announcing the Easter Day Special exclusive for LMCSWAP traders! Trade and refer to earn 955,000 LMCSWAP.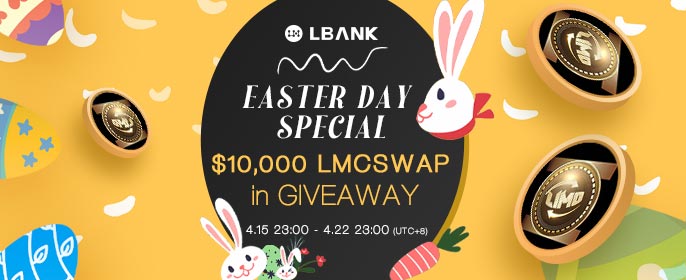 ⏰ Event Period: 4.15 23:00 - 4.22 23:00 (UTC+8)
🐰I. Register and Trade to Receive 300,000 LMCSWAP
Use the exclusive link to register and start your trade at https://www.lbank.info/exchange/lmcswap/usdt/.
You'll receive 3,000 LMCSWAP when you trade >= 30,000 LMCSWAP.
🐰II. Refer -Trading Friends to Earn
Invite your friends who're also quant trading enthusiasts to register at LBank using your personal invitation code/link. The prize pool is 655,000 LMCSWAP, first come, first served.
For each valid invitee (who trades at least 40,000 LMCSWAP during the campaign period), you can earn 3,000 LMCSWAP. The more you refer, the more you earn.
Your invitees can receive

3,550 LMCSWAP

if they meet the requirements.
Both you and your invitees can earn commissions via

LBank Referral Program

.